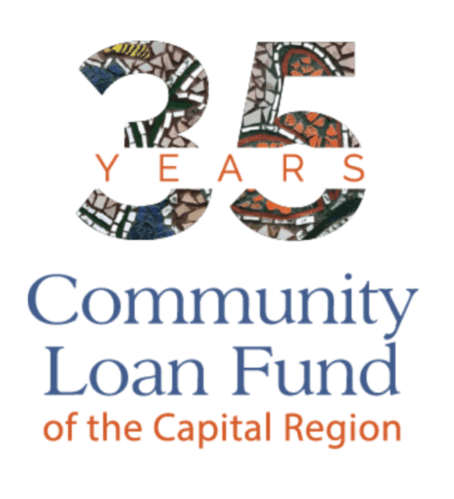 35th Anniversary Celebration of the Community Loan Fund of the Capital Region
The Community Loan Fund of the Capital Region is turning 35 years old!
We'll celebrate the community we serve and the progress we've made together during our Annual Event, to be held on Wednesday, October 21, 5:30pm-6:30pm. The event will take place online via Zoom.
Once you have registered, you will receive a meeting confirmation to the email you provided, that includes the Zoom link, and directions on how to join.
Since 1985, the Community Loan Fund of the Capital Region has made 939 loans, totaling nearly $63 million, and leveraging an additional $262 million. Those projects have resulted in more than 2,926 jobs created or retained.
Join us to learn about our borrowers, our investors, and what comes next for the Community Loan Fund!
Our Honorary Committee
This event represents the Community's Loan Fund's major fundraiser for the year. Consider supporting our mission by becoming a member of our Honorary Committee. Your contribution will help support minority and women-owned businesses by providing training, providing one-on-one counseling, offering affordable office space, and making loans to ensure their success.
By joining our Honorary Committee this year, you will also support essential community-based programs and services, including affordable housing, health services, youth programming, arts and education, and access to fresh and healthy food.
Honorary Committee Levels
$3,000 Community Entrepreneur
$1,500 Community Developer
$750 Community Partner
$300 Community Supporter
$150 Community Friend