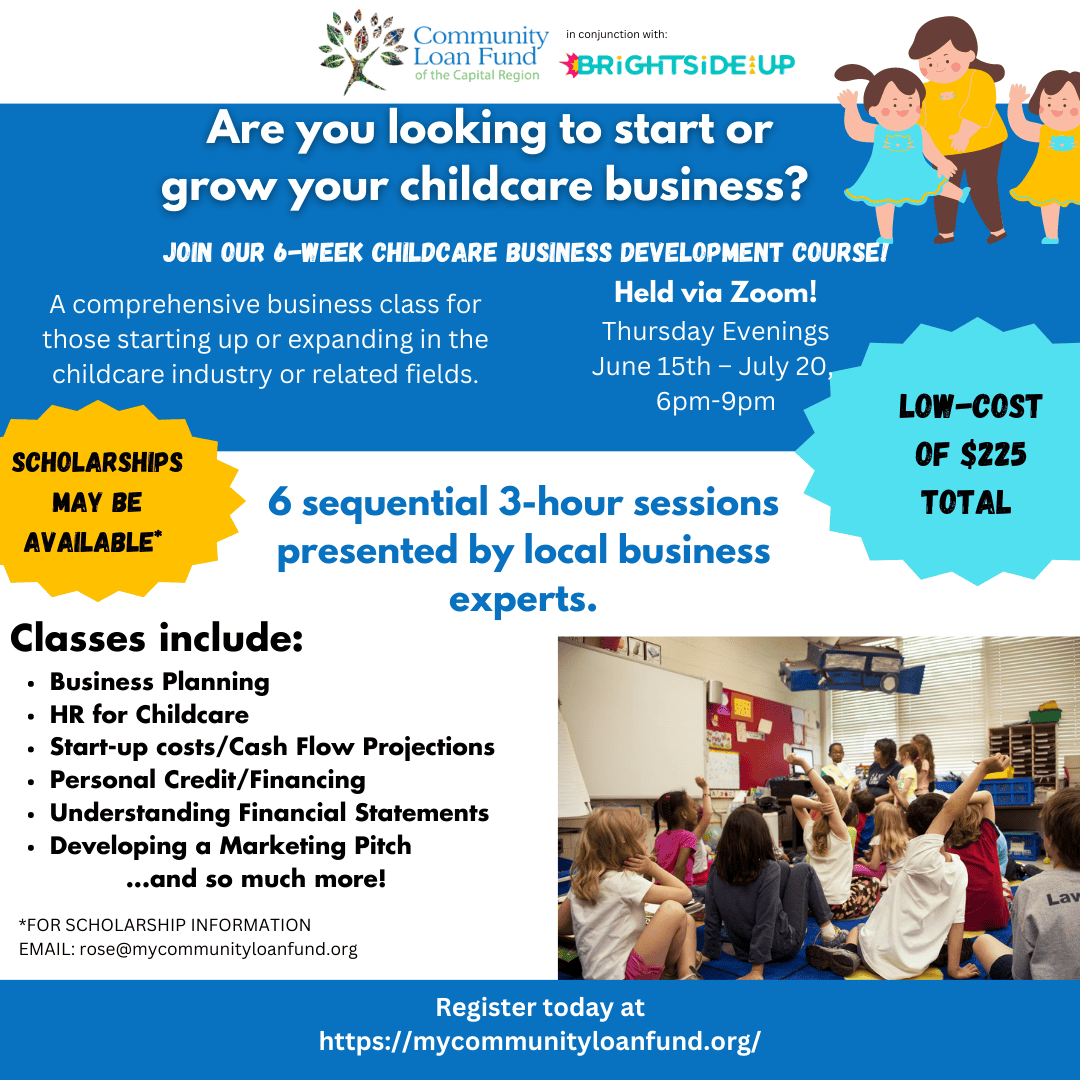 6-Week Childcare Business Development Course
*LIMITED TIME OFFER: REGISTER FOR ONLY $200! OFFER ENDS 5/22.*
Are you interested in starting up your own childcare facility but aren't sure where to start on the financial side? Or are you seeking to expand your current business or add greater stability? Consider joining the Community Loan Fund for our newly announced 6-Week Childcare Business Development Course! Please note, attendance in this course DOES NOT certify you to RUN OR OPERATE A CHILDCARE BUSINESS. ATTENDANCE IN THIS CLASS DOES NOT LEAD TO A STATE ISSUED CHILD-CARE LICENSE, but can provide resources for next steps to your business goals.
Classes include: Business planning, HR for childcare, developing marketing strategies and more!
Dates: Thursday Evenings, starting in June 2023, 6:00pm-9:00pm
Number of sessions – 6 Sessions in Total
Class will be held virtually on Zoom.
Please let us know if you have connection issues or wish assistance setting up Zoom.
This course is ideal for anyone looking to start, expand or work with a for profit or non-profit business in the Childcare industry including Family Child Care, Small Center, and school age childcare programs. Existing providers and center directors welcome.
The tuition for the course is $225 and includes class materials. *Scholarships may be available and you should reach out directly to rose@mycommunityloanfund.org.
An online resource page is available anytime during the course to provide weekly resources (content depends on the session) such as: handouts, links, slide-decks, and replays.
Community Loan Fund staff are available throughout and after the course to provide 1:1 assistance and facilitate you taking your individual business project to the next level.
*If you or your organization would like to sponsor a scholarship, please inquire directly to rose@mycommunityloanfund.org.