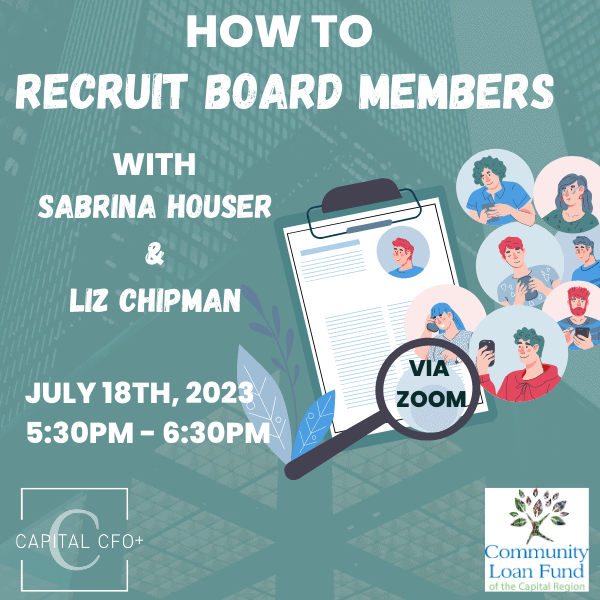 How To Recruit Board Members
Getting the right people on the bus in the right seats is critical to the efficient and effective operation of any organization, and nonprofit Boards are not exception. Join us as we review possible organizational obstacles to recruiting the board members you want and need.  You'll be introduced to tools that will assist in the recruitment and screening process; review strategies and steps; and receive advice on where you could be looking for board member prospects.
In this workshop, participants will:
Understand the roles of your board members
Determine what skills are missing on your board
Expand the pool you can recruit board members from
Create interesting experiences that will get people excited about serving on your board
Attract younger people to your board to gain from their energy and perspective
Further FREE material available on Edupreneur after registration here:
Presented by Sabrina Houser and Liz Chipman of Capital CFO+
Sabrina Houser started Capital CFO in 2016. Having worked in the nonprofit arena for twenty years, Sabrina saw first-hand the need for accuracy, efficiency, and transparency regarding a company's finances. She has the unique perspective of working as a CEO of a nonprofit and experience in managing multiple funding sources and contracts. As the CEO, she oversaw all fiscal and fiduciary responsibilities for the organization. She provided direct leadership and oversight for the agency's finance and accounting functions, including compliance with relevant government regulations. Sabrina believes that your financial health leads investors, customers, and clients to feel confident in a company's stability and potential for growth.
Liz Chipman is the Director of Education and Employment at Capital CFO+. Liz is an experienced, versatile executive with a career in education and the nonprofit sector. Committed to working collectively for good, she has a passion for work that positively impacts our lives together – both in the community and in the workplace. She is driven by a commitment to employee engagement, collaborative thinking, and creating a diverse and equitable workplace for all employees.