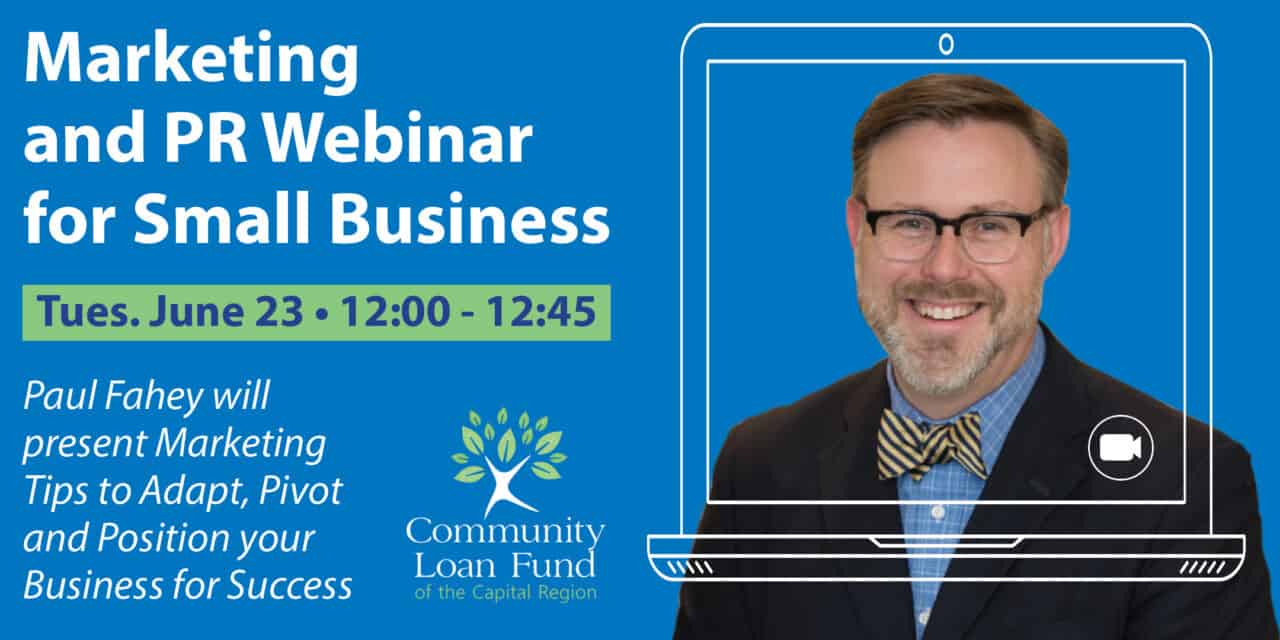 Marketing and PR Webinar for Small Business
The Coronavirus pandemic has already had a short-term impact on the general economy. Small businesses and independent contractors have been especially impacted by 'social distancing.' But the region is starting to re-open, resuming work and heading toward recovery. This 45-minute free webinar will:
Help you understand how adapt your marketing to this crisis and reach the new consumer
Teach you how a "PEAR" can guide your response
Show you how to tailor your messages for the public, press and social media
Offer tips that you can put into action today to help pivot, adapt your marketing, minimize the damage from this downturn and better position you for success when it's over.
Whether you're a sole proprietor or have a marketing team of ten, this presentation will be relevant to you. We'll have an additional 15 minutes for questions at the end of the presentation.
Register for event here. Link to the meeting will be sent to all invitees in advance of the session.
About the Presenter
Paul Fahey is a thirty year veteran of the Capital Region's marketing industry. Currently COO of Overit Media, he formerly held roles as the Marketing Director for the Proctors/CapRep/UPH Collaborative, COO of Zone 5 and leadership roles at other regional ad agencies. He was also the CEO for the Children's Museum of Science and Technology, leading the organization through a merger with SUNY Polytechnic Institute; a deal that included a $5 million gift in support of the museum's mission.
He launched start-ups, traveled the world with Fortune 500 companies and supported nonprofits that help the less fortunate. While this is his first global pandemic, Paul has helped guide clients through several economic downturns, the dot-com and housing bubbles, 9/11, infectious outbreaks, scandals and other misadventures.
Paul also serves on the boards of Albany Pro Musica, Troy Savings Bank Music Hall and Empire State Aerosciences Museum. He holds a Bachelor of Science in Visual Arts from the State University of New York at New Paltz.