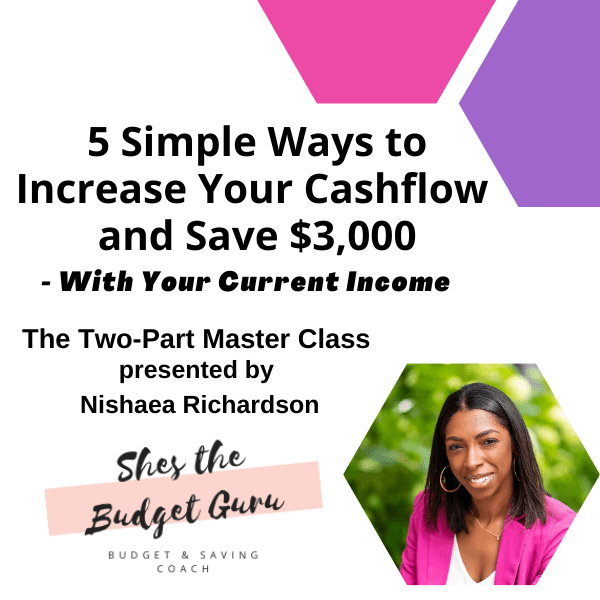 5 Simple Ways to Increase Your Cashflow and Save $3,000 – With Your Current Income!
Are you struggling to save money? Struggling with debt? Or are you just not making enough income to get by?
Nishaea Richardson knows the feeling! It is hard, isn't it? You might be wondering, "What can I do?" Well, there is a way…
Richardson was living paycheck to paycheck for years and finally broke free from that cycle. Now she has an emergency fund, savings for retirement in multiple accounts, paying off her house early AND traveling a lot more!
How did she do this? She created systems and implemented strategies in her life that allowed her to easily save money. And now she wants to share some of those secrets with YOU!
Join us for this two-part Master Class with Nishaea Richardson, the Budgeting Guru, taking place on March 16 and March 30, from 6:00pm – 7:00pm.
During this two-part class, Richardson will show you how to implement strategies for saving that will increase your cashflow and save $3,000 – and all with the income you're making right now.
Bio of Presenter Nishaea Richardson: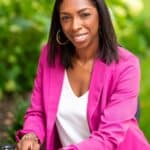 A single mother of a teenage son, Nishaea Richardson is working full-time in Human Resources and running her business part-time as a Financial coach for women, supporting them with building CONFIDENCE with money so they can live the good life they desire. Since becoming a mom her focus has shifted to creating a sound financial plan for her and her son! She is helping other women do the same by providing services that will help them build an emergency fund, create a SMART spending plan, grow their money, and learn wealth strategies so they can position themselves for success financially!