The Makeup Curio is the vision and creation of Jenn Dugan, an entrepreneur with an extensive background in theatrical costumes, hair, and makeup. At Makeup Curio, Dugan "blends the beautiful and the unusual," and provides a mix of makeup and esthetic services. Her services include special occasion makeup – and special effects makeup.
Dugan earned a Bachelor's Degree in Fashion Design from Marist College, an Associates in Business Administration from Schenectady County Community College and her NYS Esthetics License. She opened the Makeup Curio in downtown Schenectady in 2017 with a loan from the Community Loan Fund.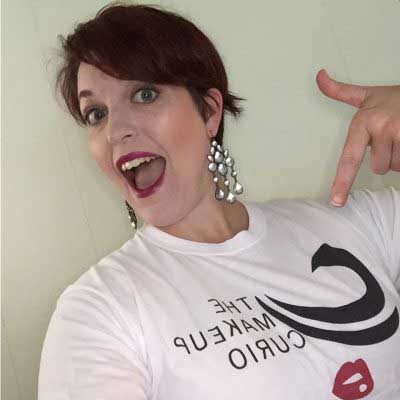 "I had been working out of a studio in my house when I completed my esthetics degree.  It was time to jump to a commercial space, but that meant a boost in capital was needed.  It wouldn't have happened without the help of The Community Loan Fund," says Dugan. "Now I'm in a prime location in downtown Schenectady, with a public retail space and a private transformation room for facials, waxing and private makeup appointments that is beautiful and weird all rolled into one."
Dugan is also adjacent to Proctors Theatre, where she sometimes does theatrical makeup, transforming actors into characters for rapt audiences.
"It has been an up-and-down rollercoaster as any entrepreneur will tell you, but I am so grateful for the Community Loan Fund for getting me through the first year. And it wasn't just the initial investment a year ago, it is a constant mentoring, with Destiny, with Lissa. It is the constant accountability, just helping keep me sustainable and accountable," says Dugan.
The Makeup Curio is a boutique-style business fused with an esthetics-only salon that offers a unique blend of beauty, bridal, theater, skincare, and special effects makeup. Dugan sells popular indy makeup brands like Graftobian, Gleam by Melanie Mills, Rubber Wear, Bdellium Tools, SmudgeFIXX, and more. Dugan also delivers beauty and makeup workshops, and makeup services for brides and special occasions.