In 1997, Lavida Barkley embarked on a quest to discover her Natural hair. Along the way, she became an avid lover of curls, and a firm believer in the ultimate potential of each person's own natural hair. In 2017, she opened her own salon, Coiled, to create a space that focused on kinks, coils, curls, and waves, and teaching people how to love and care for the hair they have.
"Coiled was created out of the need for services for women with naturally tightly coiled hair and offering alternatives that don't require chemical or thermal altering of their natural tresses," says Barkley. "I saw a void in the hair industry that wasn't meeting basic necessity without having to venture to YouTube, social media, spend time and money on products that don't work or being forced into services that don't last beyond the Saturday morning salon visit."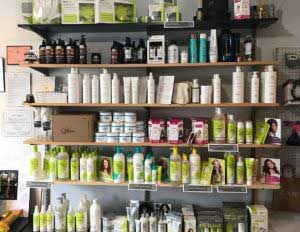 At Coiled, Barkley and her team provide a shape and style tailor-made for your hair, select a customized product cocktail, and walk guests through a simple weekly routine of a healthy and hydrated haircare journey.
The results? "Most guests are blown away by the final outcome of their session," says Barkley. She sends each guest home with tools, and promises to help with "curl coaching," as needed.
Barkley says that at first, the dream of owning her own salon seemed impossible, but with help and support from the Community Loan Fund, Coiled has become a reality. "The Community Loan Fund opened up possibilities for many people like myself, people who had crazy, unique ideas that traditional funding closed their doors to," she says. Barkley has been in business almost two years and continues to relish those 'aha' moments, she gets from clients who see their new hairdos for the first time.
"The most challenging aspect of starting and running my own business is having to be all things; accountant, stylist, Salon Manager, Operations manager, Maintenance, Assistant, and Inventory Control," says Barkley. But it is her clients' 'wow' moments that keeps her coming back. "Coiled is a safe space and lifesaver for curls."
Coiled is located at 1305 Nott Street in Schenectady. For more information, call (518) 348-9791, or visit CoiledTexturedSalon.com.