The Albany STEAM (Science, Technology, Engineering, Arts, and Math) Garden is on the cusp of opening their first floor co-working space this fall. This project is located in the former St. Patrick's School near Central Avenue and N. Lake. It is the realization of a longtime goal of the Central Avenue Business Improvement District (CBID): to create a catalytic project within the district to train our growing workforce and help incubate the next generation of Central Avenue business owners.
The Community Loan Fund of the Capital Region provided $1.9 million in loans to help the Central Avenue Business Improvement District transform this 33,000 square foot school into a state-of-the-art incubator. Recently, our team had the opportunity to tour the STEAM Garden with Anthony Capece, Executive Director of the CBID and STEAM Garden mastermind. Capece says the STEAM Garden will give local small business owners, entrepreneurs, and nonprofit organizations access to an innovative working space and convenient amenities all at one location. The STEAM Garden is conveniently located near the University at Albany's new College of Engineering and Science on the downtown campus, and Capece says they already have arrangements with the college for students to have access to the incubator. The incubator is also a New York State Certified Business Incubator and Innovation Hotspot, meaning that businesses that incubate there will be eligible for New York State tax credits.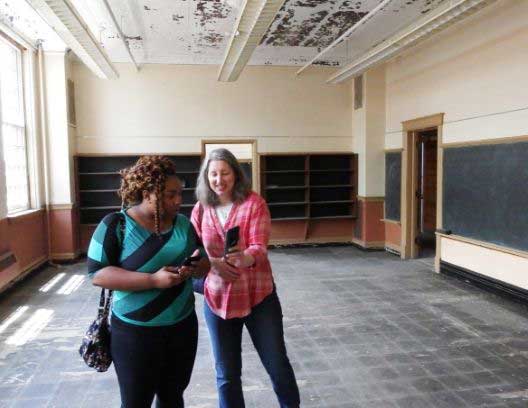 Capece walked us through the three-story building. The first floor has been renovated to highlight the significant architectural features of the building, such as the tin ceiling, overhead pipes, and the original windows frames, and will become a collaborative co-working space, offered at a significantly lower rate than many of the area's existing co-working spaces. Basic membership will include access to this state-of-the-art space, on-site kitchen, café, community space, and network, with additional costs for parking, bus passes, etc.
The classrooms on the second and third floors of the building are available for longer term lease. These floors are former classrooms, and each space offers high ceilings, nearly floor to ceiling windows and classic chalkboards. Remnants of the building's earlier academic life can be found in surprising touches: a hallway bell, coat hooks lining the walls, the large clock in the former cafeteria. The basement of the building is being transformed into a studio space. The basement will also play host to Historic Albany Foundation's ongoing preservation classes.
The STEAM Garden is located at 279 Central Avenue in Albany. For more information, contact the Central Business Improvement District at 518-462-4300.