Last week, the City of Troy partnered with Community Loan Fund to award $300,000 in grants and training to small businesses impacted by COVID. Mayor Patrick Madden explained, "While significant progress has been made to reopen our economy through vaccinations and science-based policy decisions, many of our small businesses are still reeling from the effects of the pandemic. This grant funding will help businesses recover lost revenue and welcome back customers as part of Troy's economic recovery.
We caught up with some more of the businesses who received grants to learn more about their experiences, and how the funds are helping them get back to business as usual.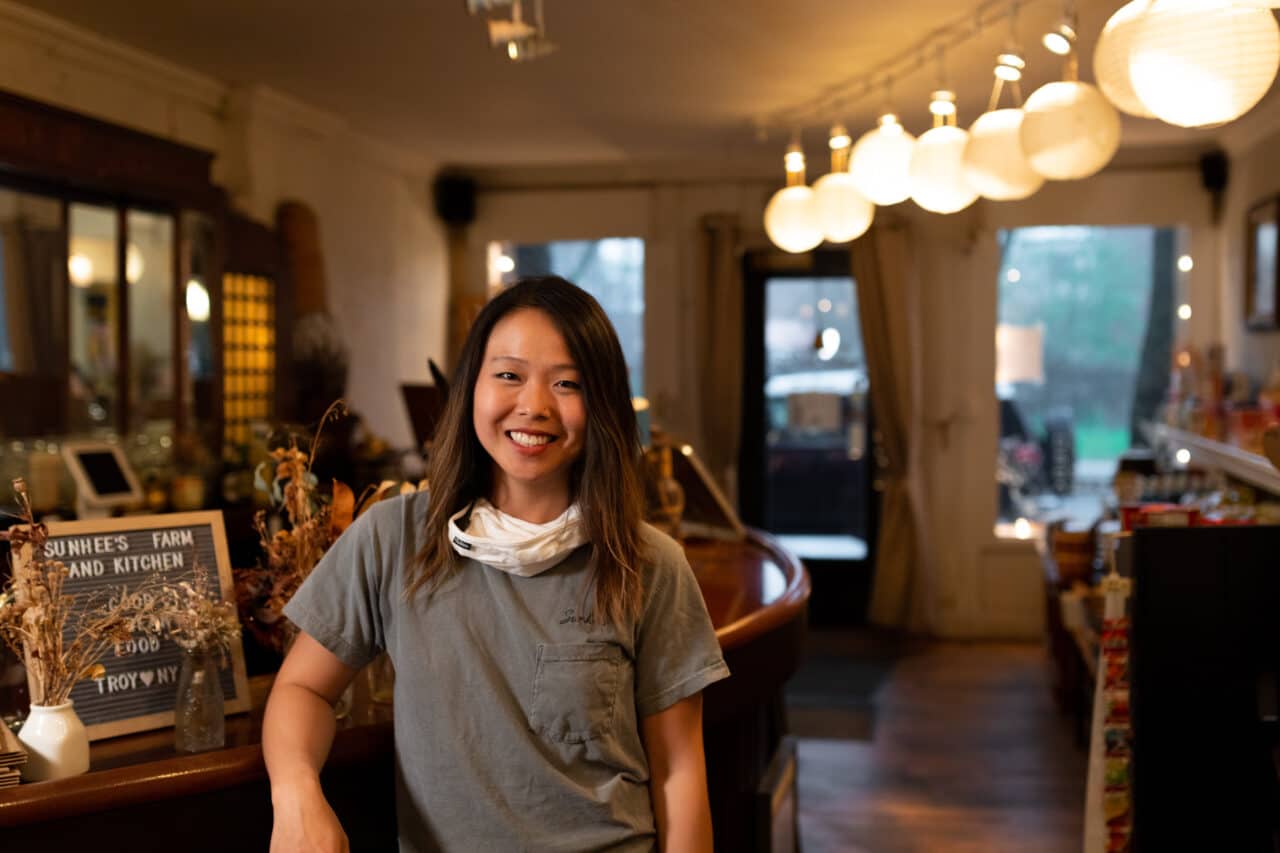 Jinah Kim
Sunhee's Farm & Kitchen
Grant amount: $10,000. Sunhee's Farm & Kitchen started with a family farm and a devotion to sharing Korean culture – starting with food. Jinah Kim started the business alongside her family in 2016; her father is the farmer and her mom is the chef. Kim herself had been working in refugee resettlement and direct services at the time but had aspirations to start a business that would serve the immigrant community in a new way. "Sunhee's is a business by immigrants for immigrants, and we believe that the strong economic and cultural fabric of America depends on the continued empowerment of people from all backgrounds." The business expanded in 2018 to include a market. 2020 brought COVID and great upheaval, but Kim says that the business was more resilient because of the strong commitment her employees have to the business and its mission. Sunhee's was one of the recipients of the Troy Small Business Grants and Kim said the award has certainly helped. "The pandemic has posed unforeseen challenges to small business owners especially, but it has also been a time of reevaluation and deepening of roots," said Kim. "It's during tumultuous times that we begin to see what's really important and call for help in our own communities. The grant was another reflection of how our communities show up for one another, and what it means to lean on one another during trying times."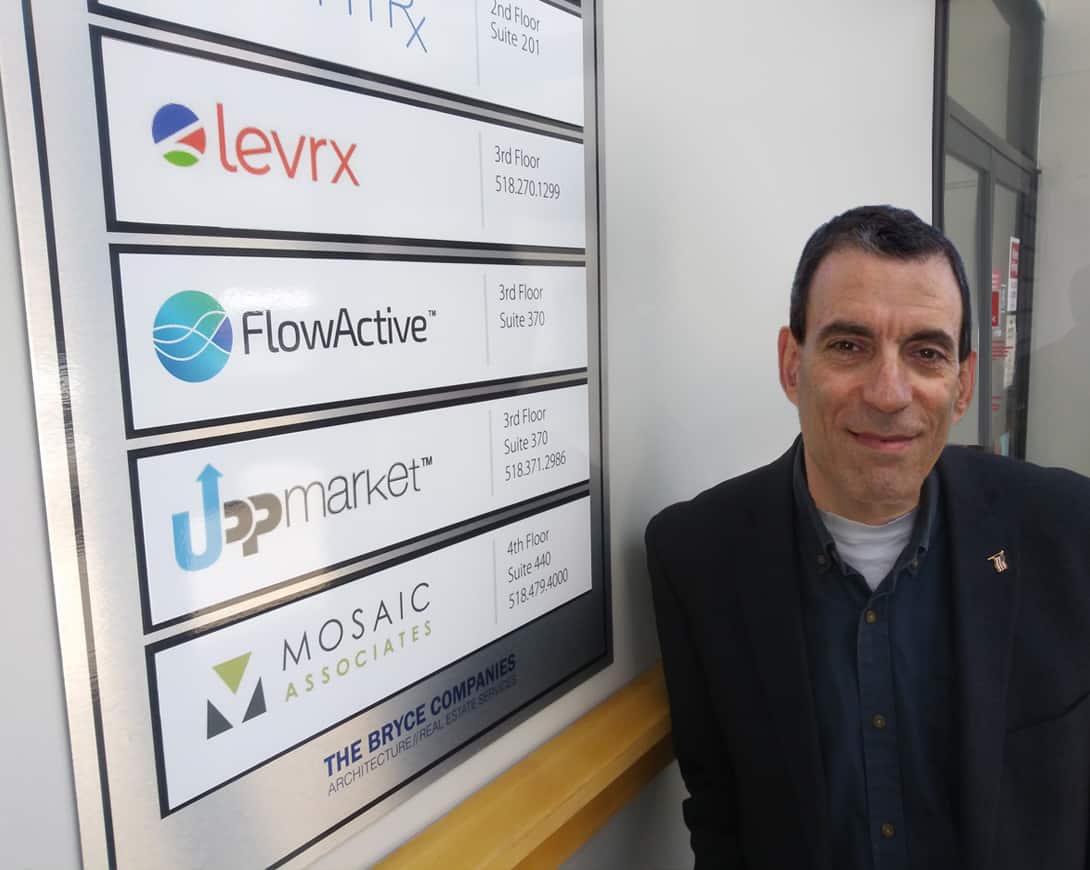 Grant amount: $10,000 Howie Diamond wanted to help consumer product companies become more sustainable, predictable, and profitable. He had been running another company that offered a number of interrelated but separate services. In 2018 he had a vision to integrate these services and smooth the way for companies to reach market. "UPPmarket, Inc. was incorporated in January 2019 to deliver this integrated solution as a Platform as a Service (PaaS). We began serving client companies later in 2019. 2020 was actually the first full year of operations," said Diamond. "At the time COVID hit we had just signed off on 4 new contracts and three of them almost immediately vaporized. Business went flat. All growth stopped." The loss of revenues in 2020 was almost devastating. "We've just recently been able to see some progress toward new client acquisition as the economy has continued to emerge from COVID," says Diamond. The small business grant came at just the right time. "This is very timely and more than helpful. I can't easily express how grateful we are for this assistance after such a trying year." UPPmarket will use these funds to support the costs of operations and payroll so they can continue to help bring companies to market.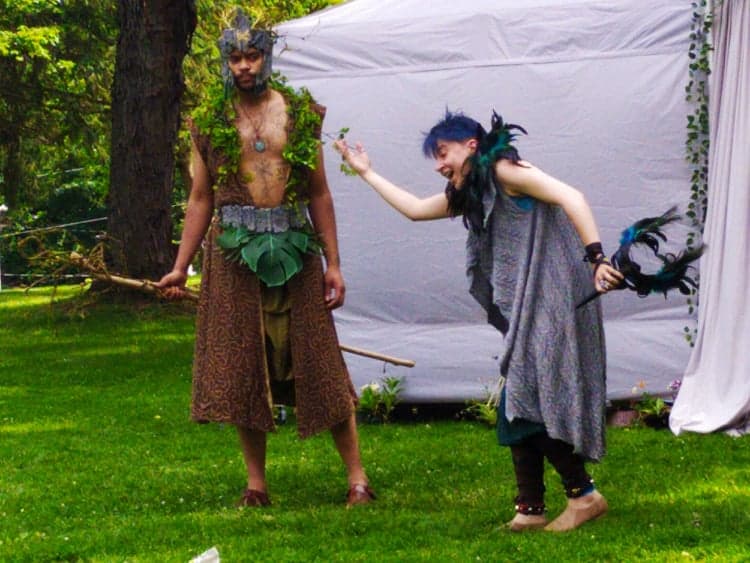 Michael Lake and Shae Fitzgerald
Will Kempe's Players
Grant amount: $9,000. Will Kempe's Players is celebrating its 5th year as the premiere touring Shakespeare theatre co-operative in Troy and the Capital Region. COVID-19 restrictions forced the theatre troupe to postpone all fundraisers and performances in 2020. The Troy Small Business Grant will help the actors return to the stage this summer. The grant ensures WKP's rehearsals and productions will have everything needed to be safe. "The grant allows us to purchase essential sanitation supplies, acquire a microphone system that will help audiences hear us while remaining at a safe and comfortable distance, as well as hire the necessary personnel to ensure the safety of the audience and performers alike," says Robert Johnson, Marketing and Communications Director. "Will Kempe's Players are extremely grateful to have the funds we need to address all of the hurdles presented by the pandemic. We cannot wait to return to the greater Troy theatre scene and share our stories. This July and August, the troupe will perform "Much Ado About Nothing" and "As You Like it" at Prospect Park and Sand Lake Center for the Arts.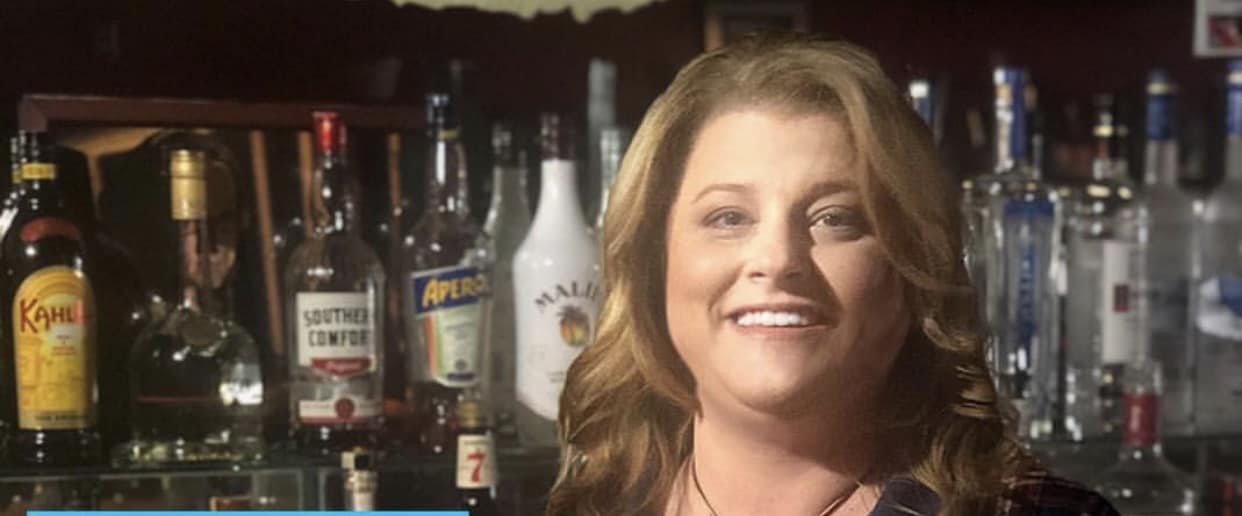 Grant amount: $10,000. McAddy's pub is owned and operated by Susie Carrk. "We opened 3 years ago, and I was very excited to be in Troy. I have 2 businesses in Albany and I was happy to be coming across the river," says Susie. Carrk says the grant money has helped her reassure people that the business is safe, the air is clean, and the employees are taking all the necessary precautions. "We want people to feel safe stepping into the business and this grant made it possible! COVID was a long year and half but with loyal customers and co workers we did it and just kept at it everyday!"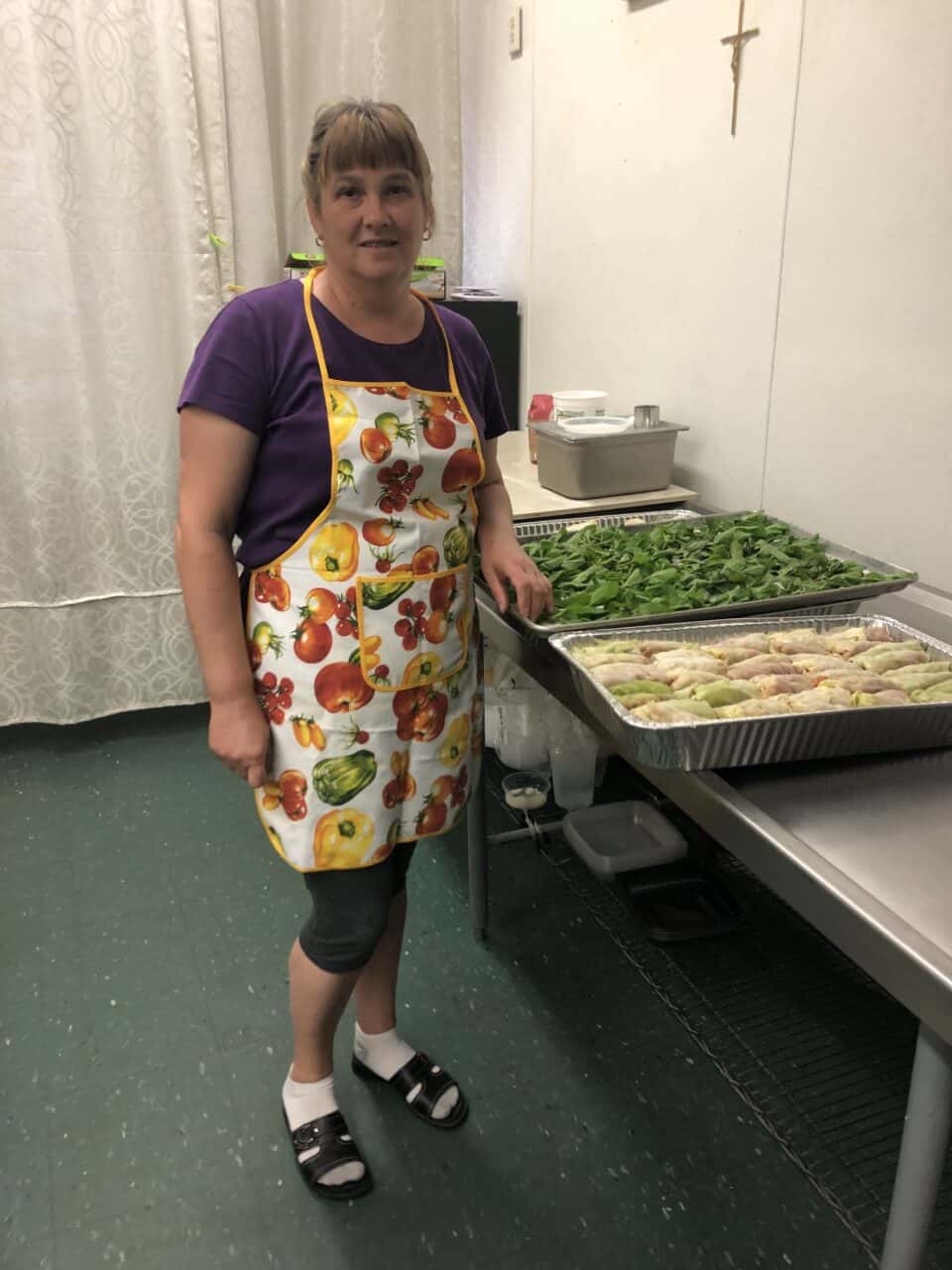 Nataliya Kamel
Slavonian European Cafe
Grant amount: $10,000. Nataliya and her husband Aledin circled the globe before opening their Slavic Eastern European cafe in 2017. Nataliya is from Ukraine and Aledin is from Egypt. They worked in cafes across Italy before opening their own pizzeria in western Ukraine. But then, violence broke out and the couple was forced to emigrate to the U.S. The restaurant they opened is a tribute to their travels, featuring pierogis, spanokopita, stuffed cabbage, kielbasa, moussaka, pizza, schwarma, rabbit, duck, and of course, pastries and desserts. There is, in fact, something for everyone, and that universality helped them build a large customer base. Then COVID hit. "COVID hurt us a lot, we lost a lot of customers, our kitchen. Because of the virus, people are at home and are afraid to even go out in masks to protect themselves from disease," says Nataliya. The couple took their wares on the road, bringing their food to the Troy Farmers Market, as well as local events. The grant will help them cover rent at their Northern Rd. restaurant and get back to serving customers table-side.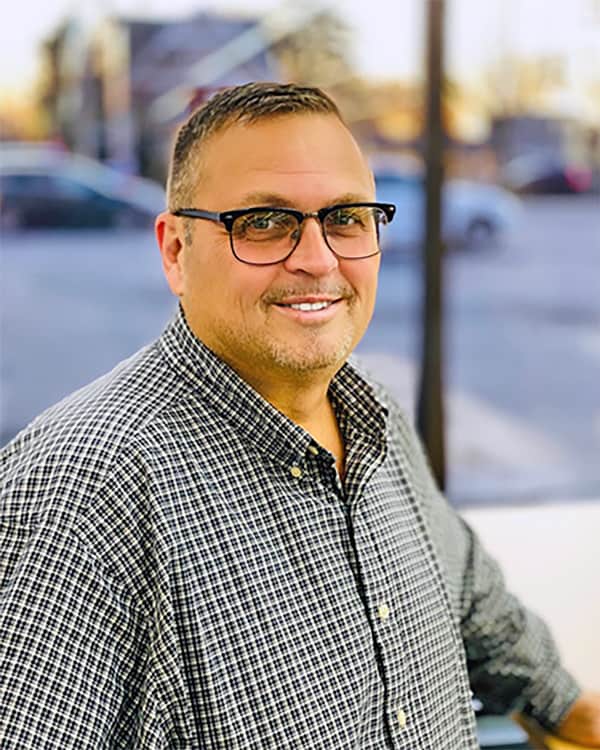 Mike Paris
National Project Group
Grant amount: $10,000. Across the US and Canada, National Project Group designs, furnishes, and manages office openings, closings, and relocations for some of America's best-known brands. The company has a branch in the Capital Region that features an office furniture showroom where corporate clients can get "visual inspiration." When businesses put operations on pause, began laying off personnel, and shifted employees to remote work, National Project Group's sales slumped. No one was interested in office furniture when no one was working in offices, says Paris. "This grant will be used to offset the expense of enhancing our office space as employees return. We've reconfigured the workspace with higher panels and more separation amongst our staff to maintain proper social distancing. Additionally, NPG also purchased a state-of-the-art vaporizer machine to ensure the highest level of cleanliness possible for our customers and employees."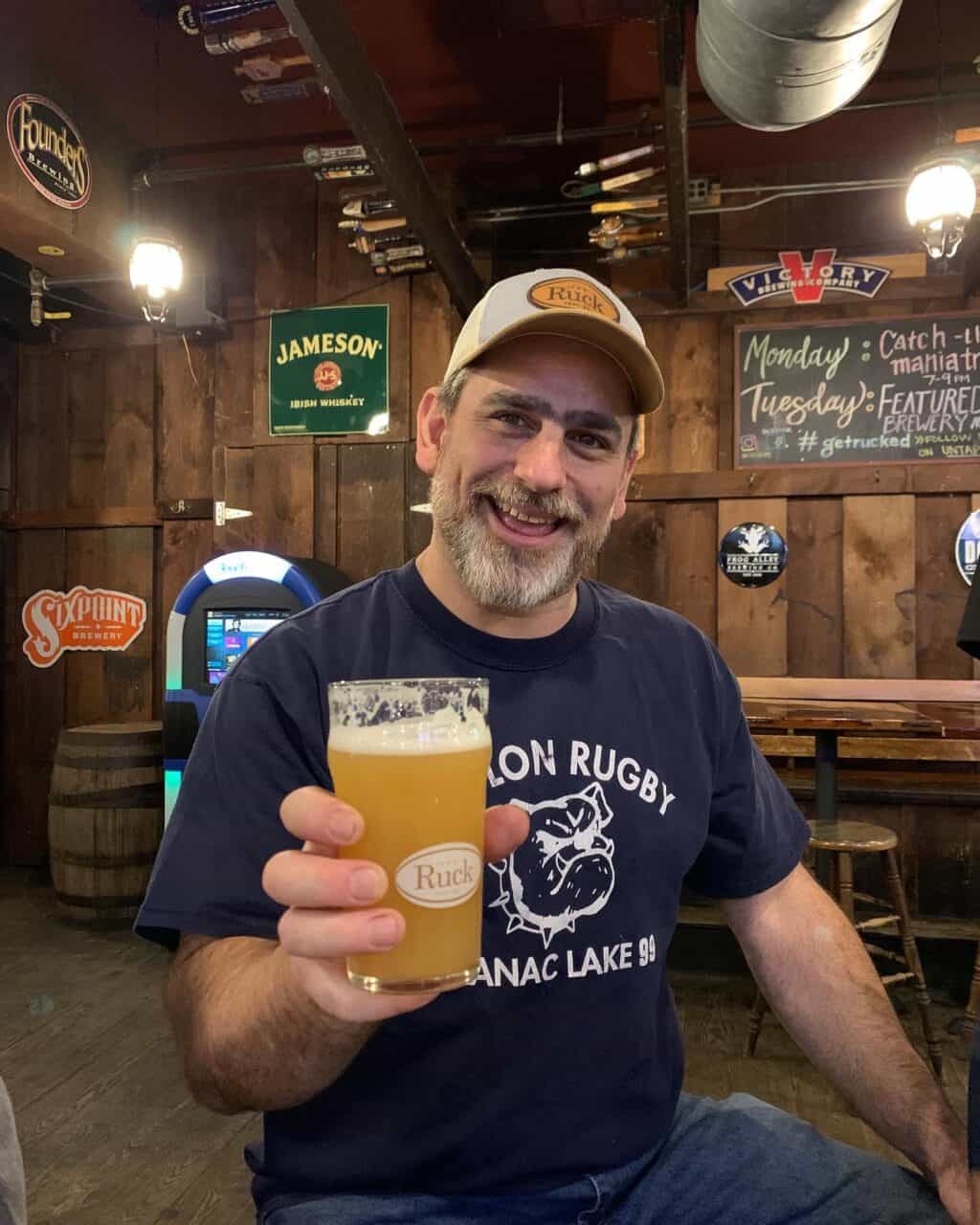 Grant amount: $10,000 1 – The Ruck has been a staple in the Downtown Troy Community since 1998, and was bought by David Gardell in December of 2004. Since then Dave has taken on several construction projects to renovate the building, creating private party spaces upstairs, a back dining patio, a new facade and as of 2019, a state of the art kitchen. When COVID-19 struck Rensselaer County in 2020, The Ruck had to drastically shift gears from being an in-house bar and restaurant to a take-out restaurant only. "We have since had to alter our hours of operation, our customer capacity, our floor plan, not to mention loss of several employees," says Manager Jenna Smith-Richmond. Even with all the adaptations, business was way down. The grant will help the restaurant cover payroll for their employees and return to business as usual. "Our plans for the grant money received is to put it all towards payroll. Taking care of our staff is one of our top priorities," says Jenna.