The Albany County Legislature, in partnership with the Albany County Executive Dan McCoy and the Community Loan Fund of the Capital Region fast-tracked $500,000 worth of grants to 132 businesses impacted by COVID. The grants were awarded across the county to small businesses from every industry, from dining to retail. Here, business owners located in Downtown Albany share how COVID has hurt their businesses and how these grants will help them recover.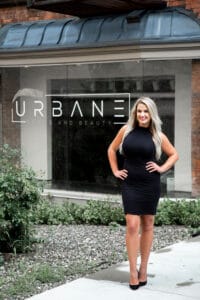 Ashley Austin
Urbane Brows and Beauty
Grant amount: $5,000 Urbane was created in October of 2017 on Stueben Street walkway, by Ashley Austin, who desired to really help people feel their best. "As a Registered Nurse, helping people has certainly been a passion, but now we are able to help people in a different way," says Austin. Urbane specializes in microblading and brow maintenance, but their services have expanded with their education, and the studio now offers eyelash extensions, facial treatments, and soon, injectables. COVID-19 caused financial and emotional stress for the Urbane team. "For three months we had to close our doors, which was more difficult than anyone can ever truly understand," says Austin. "When you are as passionate about what you do as we are, the sadness that comes with not being able to do what you feel you were meant to do is certainly overbearing." When the doors opened again, Austin and her team were happy to reconnect with clients. The grant will help them catch up with business expenses. "This money has helped us begin to catch up on payroll, as well as being able to continue daily operations which will allow us to continue to bring beauty to the Capital Region," says Austin. "We enter this year with a full and grateful heart and hope for the future."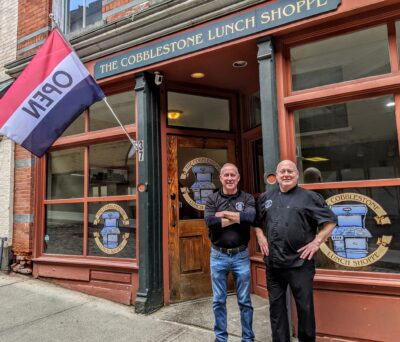 Ed and Chris Richards
Cobblestone Lunch Shoppe
Grant amount: $3,000 The Richards brothers have a passion for food that they trace back to a meal before a little league game nearly 40 years ago. "One day, as the 'star' players on the team (Ed was the pitcher and Chris was the catcher), we were treated to a pre-game lunch in the restaurant. We instantly developed a passion for food and were hooked on the idea of going into the restaurant business together and so, the conversation began," explains Ed Richards. Ed went into sales and marketing but kept his hand in culinary arts by running a BBQ truck; Chris graduated from Johnson &Wales University's Culinary School and worked with some of the finest food service organizations in the country. When they both found themselves at home once again in the Albany metro area, the idea of finally opening a restaurant together gained traction, and the duo cooked up The Cobblestone Lunch Shoppe in 2019. The restaurant is a place where you can have a "proper lunch," complete with homemade bacon, freshly cured ham, and homemade corned beef and pastrami. "We have been open and doing our best to continue to serve the Downtown Albany workforce throughout this, now yearlong, pandemic. The grant we received from the Community Loan Fund will enable us to offset some of the rising food costs so we can continue putting out the highest quality food for our guests," says Richards.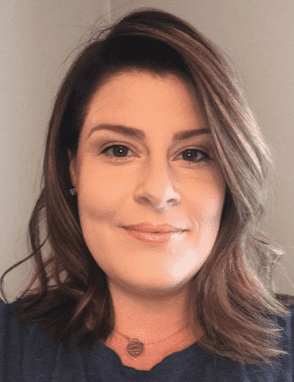 Kelly Brunina
Bombshell Hair and Beauty Studio
Grant amount: $5,000 Kelly Brunina is living her lifelong dream owning and operating Bombshell Beauty. With over 8 years in the beauty industry, she prides herself on her work ethic, passion for the latest techniques, and attention to personal service. Kelly says she also strives to empower young and new stylists to create great success for themselves behind the chair offering a new concept in the beauty world. Her salon has two locations – one in Delmar and one in Downtown Albany. "Over many years of business the Community Loan Fund has been instrumental in helping me grow my business," Brunina says. Her salons were forced to close at the beginning of the pandemic, and remained closed until June 6. "The grant will provide a cushion to help push through COVID and be able to continue growing as we see a light at the end of the tunnel."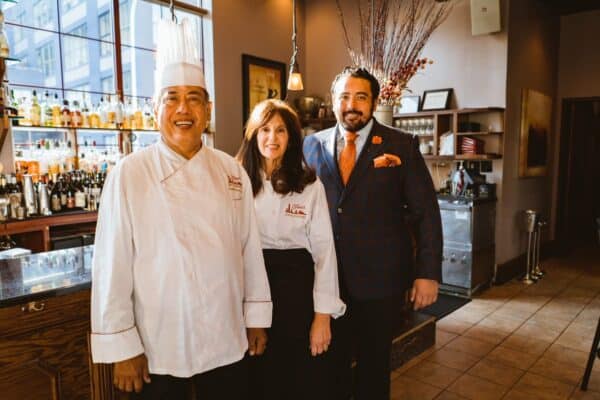 Donna and Yono Purnomo
Yono's and dp Brasserie
Grant amount: $2,500 Yono's Restaurant, located at 25 Chapel Street, is Albany's premiere restaurant for world class fine dining. Owned and operated by the Purnomo family, it has been a restaurant for memorable dining experiences since 1986 and has been recognized by the James Beard Foundation, Wine Spectator, Santé, DiRoNA & The American Culinary Federation among others. The restaurant features Chef Yono Purnomo's signature blend of contemporary American cuisine with Indonesian influence utilizing seasonal, farm fresh ingredients from Upstate New York and beyond. During the pandemic, the restaurants were forced to shutdown, and they became the sometimes-headquarters for the Feed Albany program, which provides free meals to Albany families in need during the pandemic. Dominick Purnomo is one of the co-founders of the charity. "Many, many thanks. We are truly grateful for this financial boost. Each day is a new battle to continue the fight to keep the doors open until the Federal 'Calvary' arrives. The mental, emotional and physical toll that this prolonged, profound uncertainty has befallen all of us, has been brutal," says Donna Purnomo. "Your willingness to support our small business army means so much on every level and gives us added hope and strength to continue the fight. Our heartfelt thanks to all who made this possible!! Better days are coming."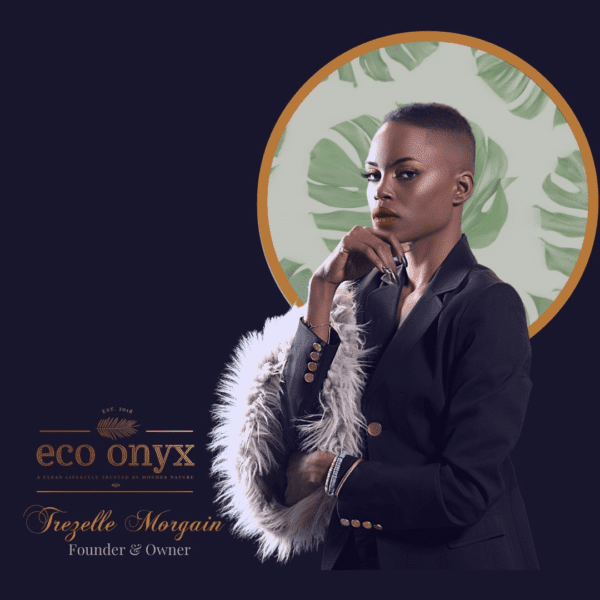 Trezelle Morgain
Eco Onyx Clean
Grant amount: $5,000 "Eco Onyx will now be able to pay back bills, contractors that have worked with us in the past, and be able to get some of the tools needed for us to create more products, market our services and grow as a company overall," says Morgain. "We are very grateful for this opportunity to grow in leaps and bounds and be better able to give our clients the services they deserve." Morgain said that COVID hit her business hard. "In 2020 I made more than half less than what I normally make in my business. It was incredibly hard, no one wanted me to come to their homes. And as a solo mom I was weary of going to others as well." Eco Onyx was created out of desperation by a single mom who wasn't able to find a job that paid above a living wage to be able to take care of herself, her child and all the bills. At the time of Onyx Clean's conception Trezelle was struggling with trying to build a Doula practice, she had no car, no clients and no prospects. The world felt like it was caving in on her and nothing felt like it was working. One day a friend of hers posted on Facebook about needing someone to help her clean, Trezelle volunteered. Week after week passed and her friend requested she came back. It became a routine. One day as we were talking about finances she asked me "why don't you start a cleaning business?" The journey didn't come without its share of "curve balls" Morgain said, but two years later she is proud that she started it.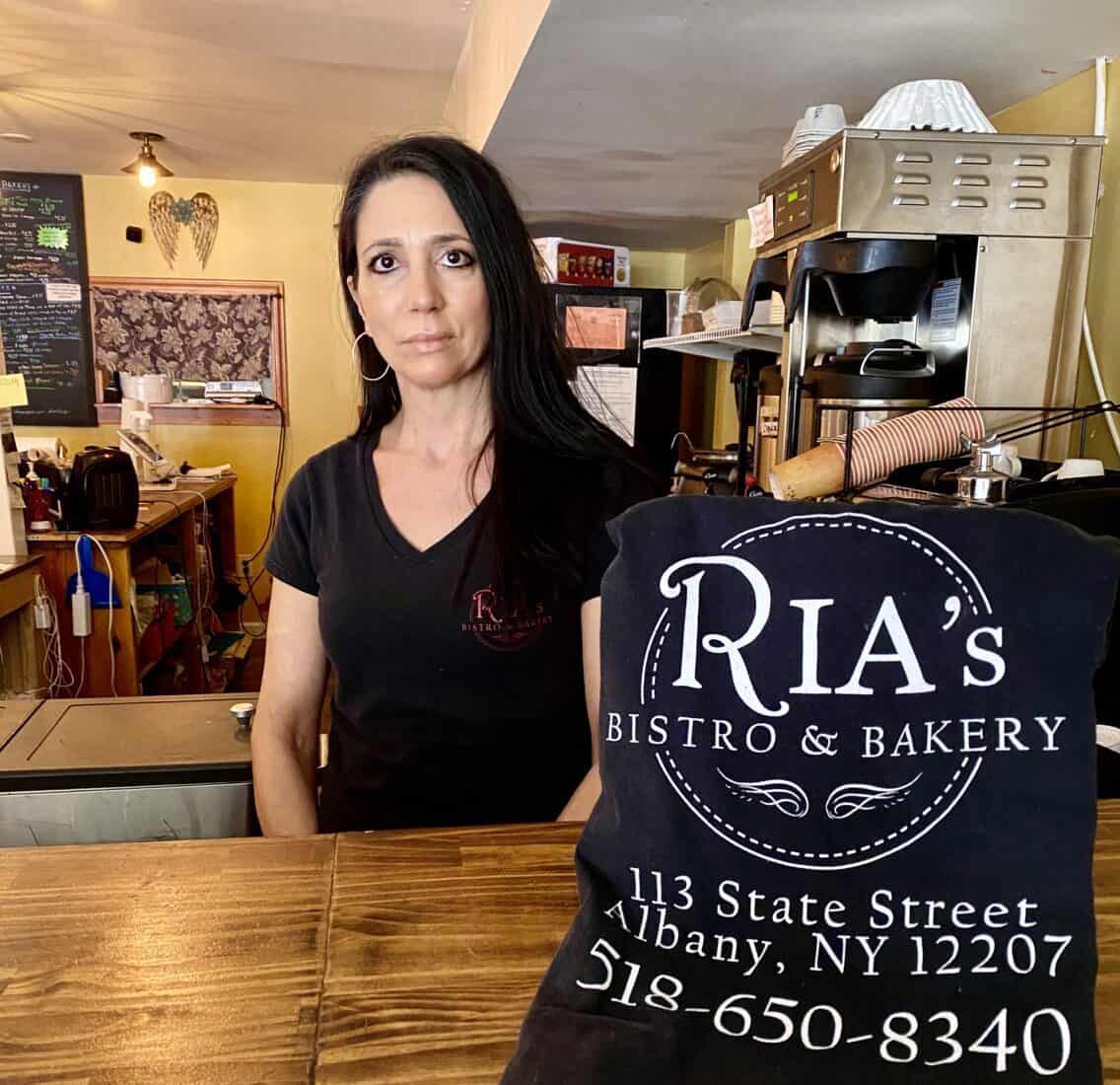 Maria Lombardi
Ria's Bistro
Grant amount: $5,000 Ria's Bistro & Bakery has been a family-owned business since 2017. "Ria's has been a great place for all the working people of downtown Albany to come and enjoy a homemade sandwich, salads and soups while on their lunch break, business meeting or even interviews," says Lombardi. She and her team focus on customer service, and she says they know most of their customers by name. "Unfortunately, the pandemic has threatened all that, and they have almost had to shut down a couple of times. "We have seen an over 60% decrease in sales due to the decrease in state, local and federal workers," says Lombardi. Limited indoor dining has also been detrimental. "I am truly grateful for the Covid-19 Economic Recovery Task Force small business grant provided by the Community Fund of the Capital Region, Albany County Legislature and Albany County Executive. It will assist us in our rent, replenishing our perishable inventory and cover PPE supplies. The grant will allow us to continue to remain open during these changing times."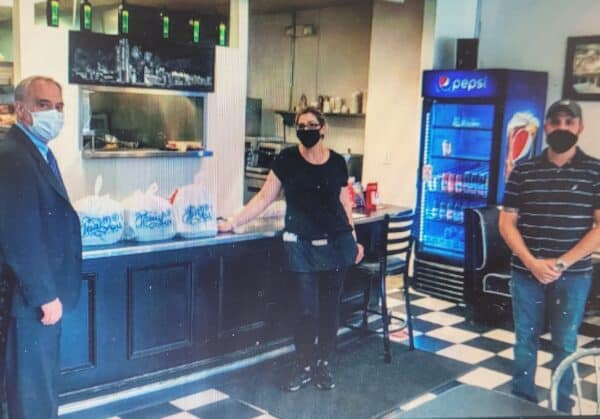 Anthony Mitsios
Pearl Street Diner
Grant amount: $3,000. The Pearl Street Diner has been in Albany since 2010. It was an idea created by Anthony Mitsios, a Siena College business graduate, and his father Nicholas Mitsios, and the concept proved popular among the downtown Albany breakfast/lunch crowd. Anthony, and his wife, Lucia have been running the diner successfully until last March. "That March was a month that will go down in history as the world was introduced to the world wide pandemic," says Mitsios. Business halted and the Mitsios scrambled to pivot. During the pandemic they offered takeout, but with surrounding office buildings emptied, business crawled. "When we heard of the grant offered by Albany, we were very happy and relieved!" says Mitsios. The grant will help the restaurant stay open, purchase PPE, and adapt to social distancing mandates.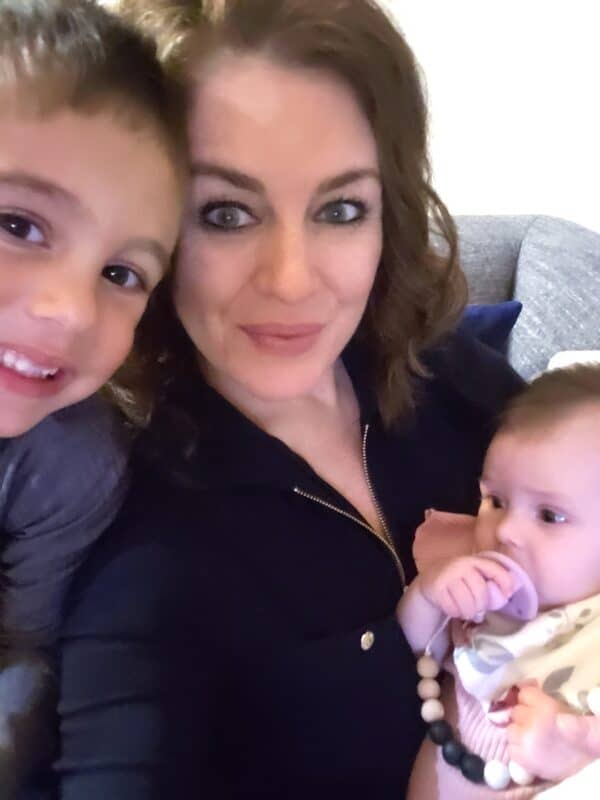 Corinne Masino
Mugshots Cafe
Grant amount: $3,000. "The grant is keeping my business afloat," says Luft. "The county is definitely helping us greatly! Mugshots llc is a female owned business, that has been in business since 2009. They have catered to the downtown offices, local businesses, state employees and now new tenants, but COVID has been devastating. "Unfortunately with COVID, most of our customer base has been staying home and haven't returned to their offices. Business is down 75%," she explains. Neverthless, she is optimistic about the future. "We look forward to their full return and moving forward!"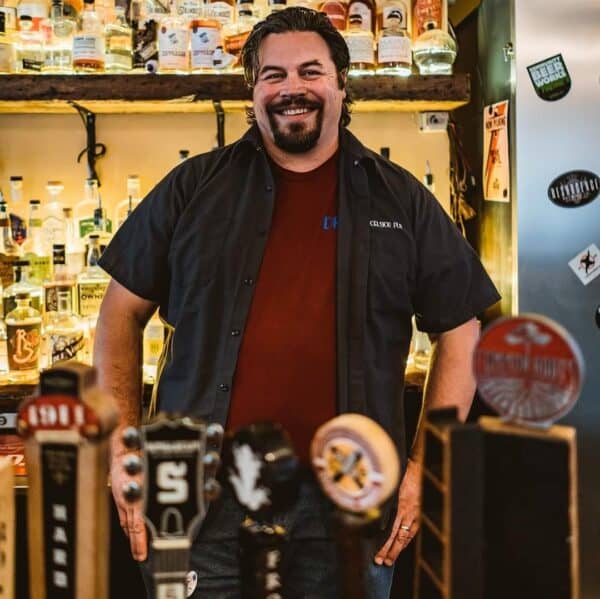 Jay Bowers
The Excelsior Pub
Grant amountJ: $3,000 "Grants like this are crucial for small businesses like The Excelsior Pub to be able to stay open," says Bowers. "We have been pivoting accordingly throughout the entire pandemic. Whether it was doing just curbside To-Go, limiting our capacity to 50% following curfews, or requiring people to order food, we have complied to survive." Bowers says they have been doing their best to stay positive and creative and adjusting some of their weekly and yearly promotions to stay within the parameters required. In March, they shifted one of hteir most popular features, a weekly trivia night, to an online platform so that regulars could continue to get together. They are currently still safely serving customers inside and employing a reservation system to ensure that customers enjoy a safe, socially distanced visit. "Grants like this make us feel that all of our hard work adjusting is worth it and gives us the ability to see the finish line of this horrible pandemic," says Bowers.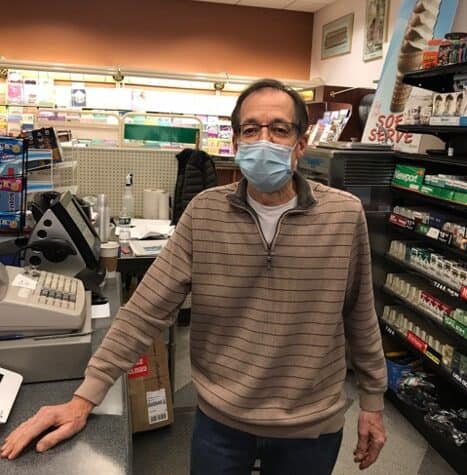 Cindy and Jerry Farina
Emil's Newsroom
Grant amount: $5,000 In the fall of 1972, Emil Farina was one of the first tenants to secure space for a convenience store at the newly opened office building located at 99 Washington Ave, known today as 1 Commerce Plaza. He named the business Emil's Newsroom, although today it is more casually referred to as "Emil's News". Emil's son, Jerry, joined the daily business operations after graduating from high school in 1973. In 1997 Emil passed away, leaving the business to his son. Since then, Jerry's son, Anthony, has come on board to what now has become a third-generation small business. Through the years, they have seen many retail businesses come and go, along with tenants, managements and even ownership of the property. Jerry Farina is proud to be the longest standing tenant of 49 years and has come to respect and appreciate the loyalty of his customers and all those he does business with. COVID IMPACT Emil's Newsroom is located in the lobby of a private office building located at 99 Washington Ave, Albany. "Due to the fact that our customer base is 95% NYS employees, we were greatly impacted when they were all directed to work from home due to Covid-19," says Farina. "The building and outside streets are quiet and only a very small percentage of employees have returned, mostly on a rotating basis. This has not been enough to sustain our business where we can meet our financial obligations." Due to the second surge of the virus, employees are currently working at 30%, and the Farinas fear that this remote/in-office hybrid will become the new normal. "We can only be successful if people return to work in the building," says Farina. "We are proud of our business and heartbroken to think that Covid-19 could well be the demise of such a long-standing and well-loved business that has provided financial stability for our family, while serving the community, for almost 49 years." The funds are greatly appreciated and will help the Farinas pay back rent that is due on the space.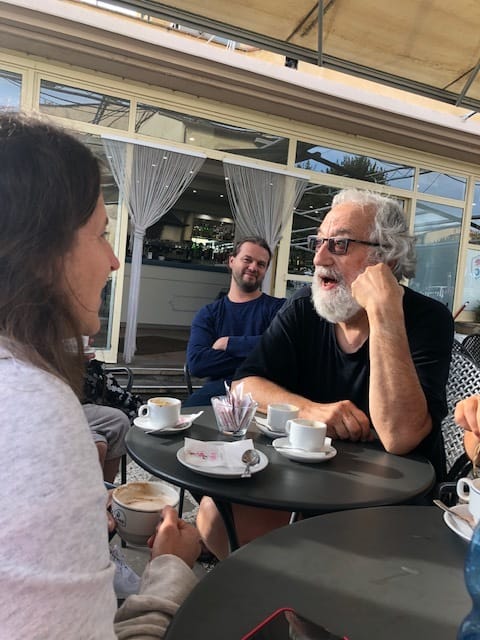 Grant amount: $3,000 Cafe Capriccio was created almost 40 years ago and has withstood the many difficulties that all restaurants face, and often succumb to. The pandemic has been unique in that the restaurant business has suffered a severe revenue loss over the past year greater than 50%. In response Rua says they are developing new initiatives that include an online marketplace, expanded takeout and delivery services, and outdoor dining in the Spring of 2021. "These initiatives are time consuming and expensive, and while they develop we must still face the usual economic exigencies related to employment and other costs that do not cease. One of our primary objectives has been to protect our employees as much as possible by creating safe working conditions and by providing as much paid work as our business allows," says Rua. "The generous grant of $3,000 is a tremendous economic and psychological benefit as we navigate the difficult health, social, and economic conditions created by the COVID 19 epidemic." The grant will provide an essential economic bridge as Rua and his staff look forward to life after COVID-19.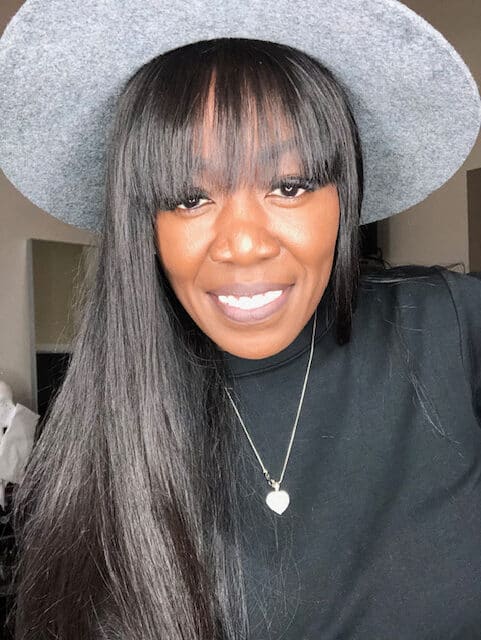 Willena Hartfield
Misunderstood Hair
Grant amount: $5,000 Willena Hartfield has been serving the Capital Region as a hair stylist for 20 years. "Beauty is power and I am empowering people with my flair on hair!" Hartfield says. She says hair has always been her first love and she is grateful that her customers have made her so popular over the years. Then COVID came. "COVID hit my salon hard like all of the others. Being shut down for that long, unable to work was hard," says Hartfield. "This grant is going to allow me to start being in the recovery process."
The Albany County COVID-19 Grant program also assisted businesses in Central Avenue and Colonie, Bethlehem, Slingerlands, Latham, Guilderland and Altamont. We will continue to post additional stories from businesses in Watervliet, Cohoes, and more!