The Albany County Legislature, in partnership with the Albany County Executive Dan McCoy and the Community Loan Fund of the Capital Region fast-tracked $500,000 worth of grants to 132 businesses impacted by COVID. The grants were awarded to small businesses from every industry, from dining to retail. Here, business owners located on Central and in nearby Colonie share how COVID has hurt their businesses and how the grants will help them recover.
The Albany County COVID-19 Grant program also assisted businesses in downtown Albany, Latham, Guilderland, Altamont, Bethlehem and Slingerlands.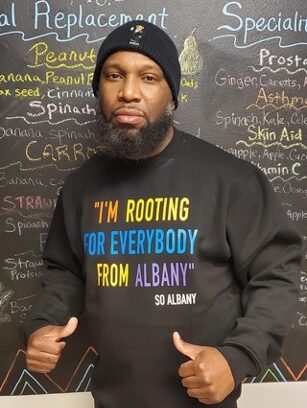 Charles Whitaker
Juices Forever
Grant amount: $5,000 "Juices Forever has been a long-time dream of mine that I knew I was going to start," says Charles Whitaker. Whitaker studied the business and all that goes into it for years before launching the restaurant in November of 2017. Whitaker says running a small business in the urban community that is geared towards health, wellness and building people up is the best thing ever. His focus is very much on educating people about health and wellness, and he has also taken on young adult volunteers at the business to develop their skills and teach them about entrepreneurship. "It's great because we enjoy sharing with others, educating and teaching them about healthier ways that they can take care of their bodies," he says. At the start of the pandemic it was a little rough Juices Forever because so many customers were losing their jobs and business slowed down considerably, but Whitaker and his staff persevered. "This grant will allow Juices Forever to continue to serve the community, support its staff and allow us to stay afloat during these tough times as we continue to work through a pandemic. This grant means a lot to Juices Forever and we are extremely grateful and honored to be selected. Thank you, Community Loan Fund of the Capital Region for choosing Juices Forever."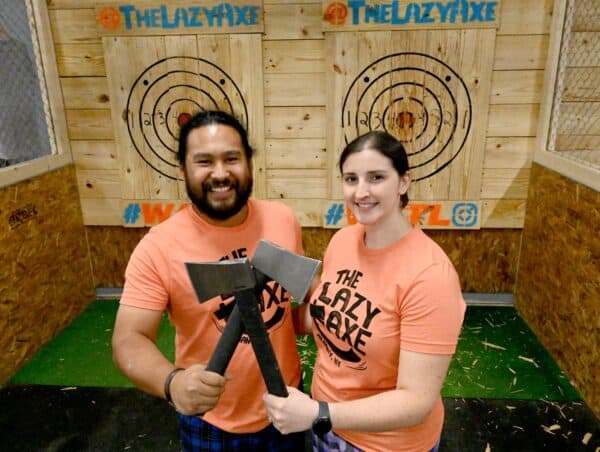 Mark Mirasol and Kristyn Muller Mirasol
The Lazy Axe
Grant amount: $3,000 The Lazy Axe, LLC was formed on October 12, 2018 by husband-and-wife team, Kristyn Muller Mirasol and Mark Mirasol. As professionals who have worked in a wide range of educational settings (from summer camp to higher education), they are passionate about bringing the exciting experience of axe throwing to the Capital Region community. The indoor axe throwing facility (located at 1865 Central Avenue in Albany) began operation on July 19, 2019. Their mission is to create a safe, high-quality, accessible, and unique experience that brings people together through the thrilling sport of axe throwing. "The Lazy Axe values safety, respect, and the power of play, and looks to provide top notch customer service to all of their guests," says Mark Mirasol. As a new business, The Lazy Axe began gaining traction after 6 months of operation, but the COVID-19 pandemic significantly impacted their progress, forcing the business to shut down completely from March 16, 2020-June 30, 2020. As a result, The Lazy Axe had to temporarily let go of their entire 10-person part-time staff and lost all sources of income for the business. They re-opened (and re-hired all of their staff) on July 1, 2020, but business has been quite slow since the re-opening. In 2020, they made less than 50% of the revenue in comparison to the same time period in 2019. Despite these setbacks, The Lazy Axe has created and maintained a close knit community of axe throwers (#axefam). The Lazy Axe is the most competitive axe throwing facility in New York State, boasting two elite-level throwers who are members of the World Axe Throwing League's Professional League (Gary Dayter and co-owner Mark Mirasol). Additionally, co-owner, Kristyn Muller Mirasol was recently elected to serve as a member of the World Axe Throwing League's Council. "We are so grateful to have received support from the Community Loan Fund of the Capital Region. While we remain cautiously optimistic about our future, we believe that the biggest factor that will determine the survival of The Lazy Axe is time. That is, the longer we can stay solvent through the pandemic and bide our time for a vaccine to be widely distributed (resulting in people being more comfortable to participate in indoor activities), the higher our chances of recovering and, ultimately, thriving as a local small business," says Mirasol.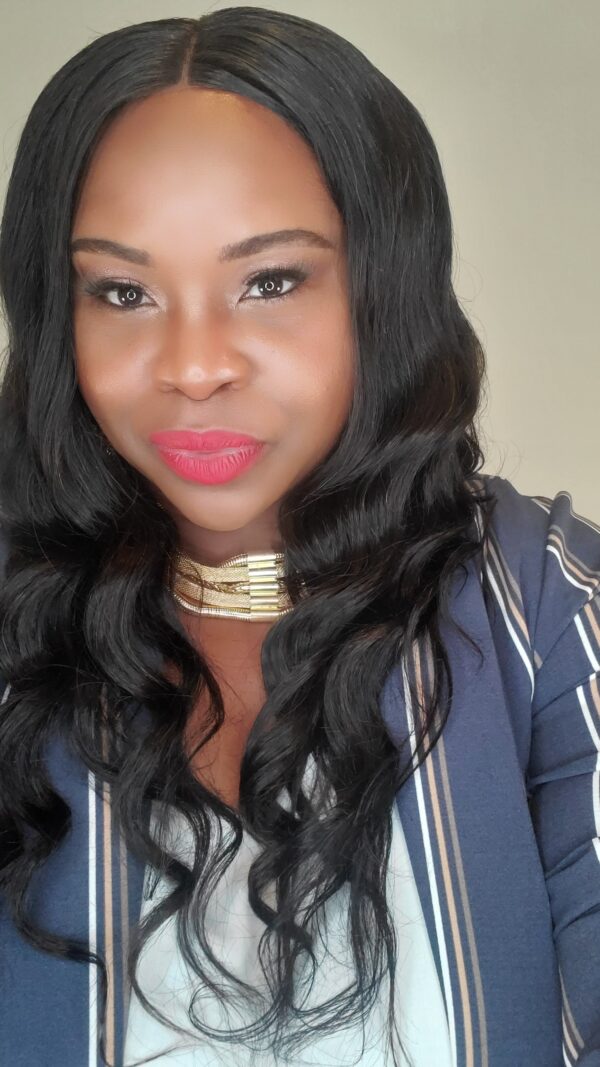 Kerry-Ann Wilson
Heaven on Earth Beauty Salon
Grant amount: $3,000. Kerry-Ann Wilson has been in business for 17 years. Nearly 10 years ago, she moved into a brand-new space that enabled her to expand her services. She has seen a steady rise in clients since then, who come for the top notch services, relaxing atmosphere, and line of specialty hair products exclusive to the salon. Things were going well, until COVID hit. "Much to our surprise we were hit with a global pandemic," says Wilson. Closing for two months seemed unimaginable, but that's exactly what happened. "Our bills were still rolling in. All the companies we owed during those two months were very generous, but once business was up and going again, we had to pay it back," says Wilson. "We are very appreciative that the Community Loan Fund offered this grant. With this grant we are able to catch up on rent and much more. Thank you, Albany County and Community Loan Fund."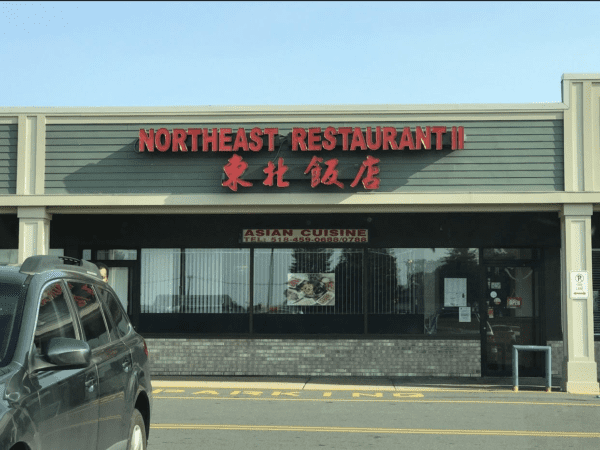 Chengzhi Ye
Northeast Bistro
Grant amount: $5,000 Northeast Bistro has been in business for almost a decade, and the owner says they have built a reputation for their authentic Chinese food. "Before COVID-19 outbreak, we were a very consistent restaurant. Our business was very solid," says Ye. The shutdown was devastating to the business, and Ye says that ever since the shutdown, sales have dropped 70%. The pandemic was so sudden and the fallout so extreme, that Ye said it has been difficult to process. "We are experiencing the darkest time of our business," says Ye. "I can no longer pay all my workers, and I can barely pay rent and other expenses to maintain this restaurant." He is grateful for the grant, which will help him cover his catch up with expenses. "Without this huge help at the most needed time, I strongly doubt my business would survive," he says.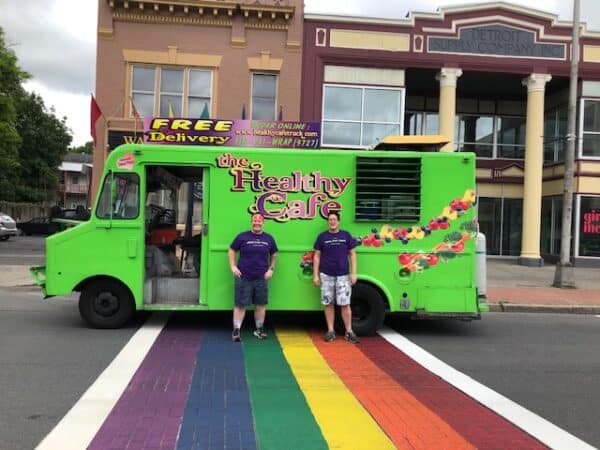 Kim Muse-Comtois
Healthy Cafe Food Truck
Grant amount: $5,000 The Healthy Cafe Food Truck has been a staple of the downtown Albany scene for many years. The women-owned business provides healthy lunches to downtown workers each day – until COVID. "This past year, COVID impacted the downtown workforce and definitely impacted us and our sales. We missed a lot of customers last year and not just because of their business; we missed hearing about their lives and families," says Muse-Comtois. "We are excited to receive this grant because it will enable us to stay in business and still remain a highlight during lunch hour. We are looking forward to welcoming back more of the workforce with great food and fun!"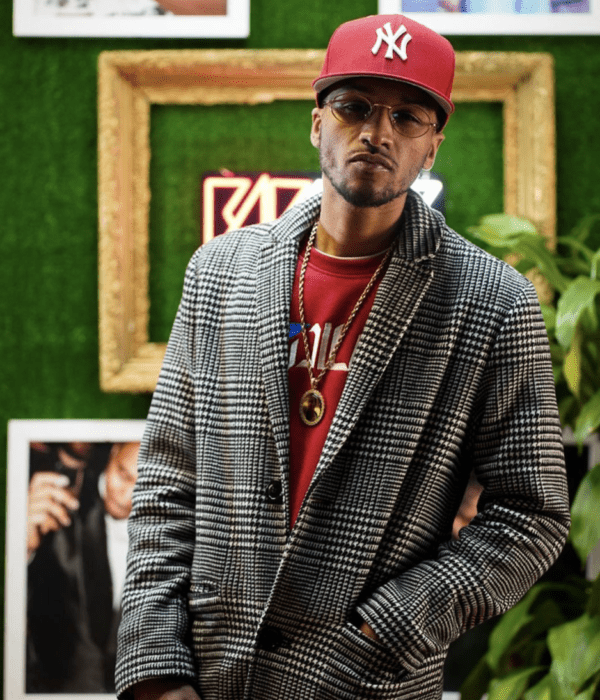 Dillon Latimer
RapDillz HQ
Grant amount: $3,000 Photographer and artist Dillon Latimer opened his own studio in 2019. "My vision when opening RapDillz HQ was to have all merchandise from local artists & brands in the Capital Region under one roof," Latimer says. He also wanted to host pop-up shops and meet-and-greet events for artists with upcoming releases. With music performances curtailed due to the pandemic, he had to completely pivot, and he put his focus instead on using the business as a production studio for himself and other artists. He hopes to survive the pandemic and return to his original business plan. "This grant means so much to my business and the timing couldn't be better," says Latimer. "This grant will help my business in many ways, mainly by helping me get over the hump of rent and expenses for next coming months," he says. This will free him up to create more inventory for upcoming shows, planned for when venues return to normal operations.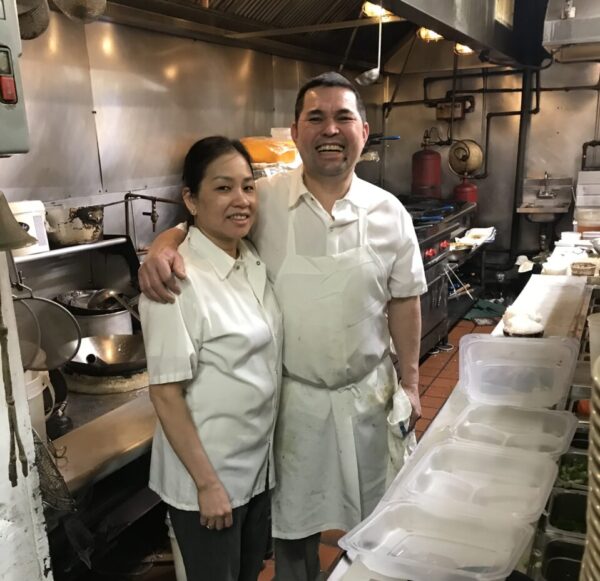 Hung Van Nguyen
Van's Vietnamese Restaurant
Grant amount: $5,000 Hung Van Nguyen was born in a mountain village in Central Viet Nam in the early 1970's. His mother is Vietnamese, and his father was an American serviceman whom Van did not even know until he was reunited with him in Pennsylvania in 2018, the year his father died. Although he was brought up by his mother in extremely difficult circumstances in Viet Nam, Van eventually came to the United States in 1992, and is now a U.S. citizen. Within a week of his arrival here, he started working as a dishwasher at the Steuben Club in Albany. Through his diligence and industry, Van soon became the Head Chef at the Steuben Club, and then, in 1999, five years after his marriage to Tran Tho, a native of Saigon (Ho Chi Minh City), he and his wife opened Van's Vietnamese Restaurant on Madison Avenue. In 2004, the restaurant, which is the only full-service Vietnamese restaurant in Albany, moved to its current location on Central Avenue, where it is delighted to welcome anyone interested in Vietnamese history, culture, and of course, its unique cuisine. "The Albany County grant is a real life-saver for our business, which has been hit hard by the global coronavirus pandemic," says Van. "We are a small Vietnamese restaurant in downtown Albany, and the money which the county so kindly provides will help us to continue to serve our community as we have for the past twenty-two years. Thank you!"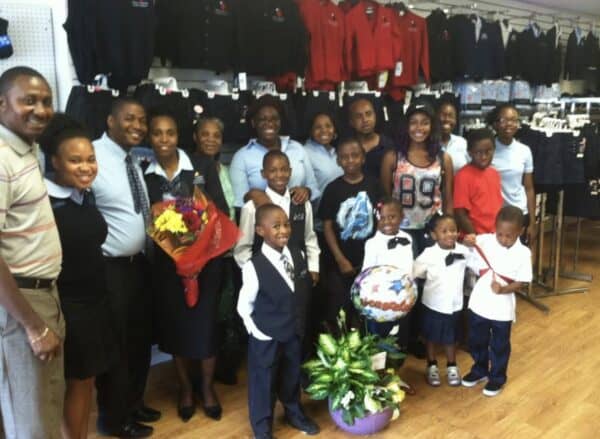 John and Deanalee Campbell
Faith Creative Names
Grant amount: $5,000 Faith Creative Names is a family owned and operated uniform store that features customized on-site embroidery. The business also provides sports uniforms to local teams including Albany High School and College of Saint Rose, as well as gear for fans. Campbell says they have lost a large volume of sales due to COVID, because many local schools are online. She said that in spite of losses, they will continue to give back to the local community through fundraisers, participating in the Summer Youth Employment program, and donations to students in need. This grant will help them stay afloat during these trying times. "Receiving this grant will help us keep our doors open. We will use the money to help pay rent, utilities and pay for our online websites and other expenses," says Campbell.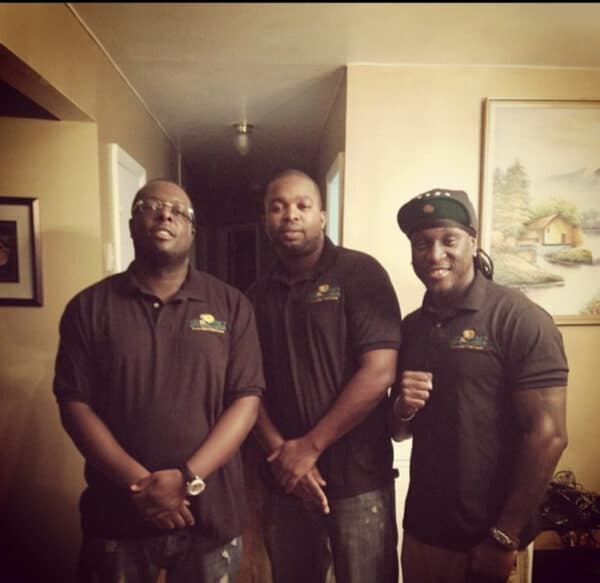 Grant amount: $5,000 Makeo Smith met his future business partners Tone and Shaun when they were still in college at Buffalo State. They had an idea, "to work towards financial and mental freedom from their 9 to 5 jobs," and "Irie Vybez was that dream," says Smith. The three put up their retirement savings to get the business started and say they've never looked back. This year marks the seventh year in business. It has built up a wide audience in the Capital District. "You may see a councilman/woman, college student, firefighter, police officer, etc buying food from the restaurant, which speaks to the range of customers that enjoy the food," says Smith. Covid started hitting restaurants hard in March of 2020, and there have been some very trying times for restauranteurs since then. "We want to continue to provide our great food and service to the community and allow our employees to make a living by keeping them employed," says Smith. "This grant means a great deal to Irie Vybez and it will be used to keep our employees employed. We thank you and appreciate this opportunity."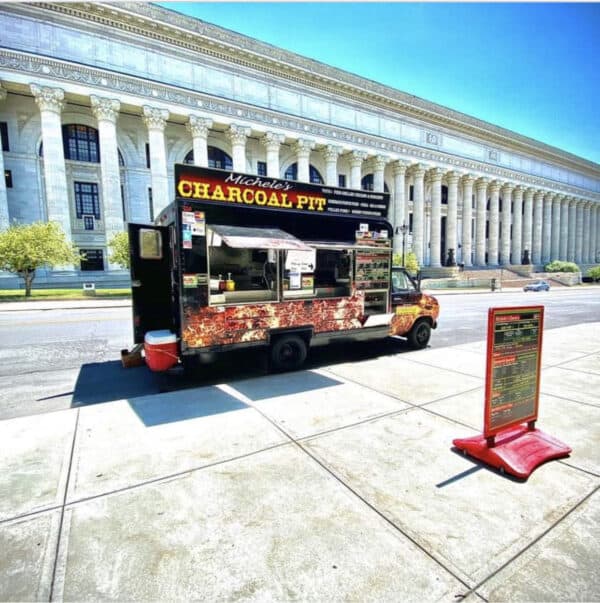 Michele O'Connor-St. Pierre
Michele's Charcoal Pit
Grant amount: $3,000. Michele's was started in the late 1980's. She began with a hot dog cart at the Capital Park which grew to a food truck, Michele's Charcoal Pit. This food truck, through its various incarnations, has been a staple of the park and the greater Capital Region for over 30 years, navigating many changing and challenging times while maintaining the great quality and service our customers expect. "This grant makes it possible for us to provide the extra safety and protection measures needed to keep our employees and customers safe and genuinely makes staying in operation all the more possible as well," says O'Connor-St. Pierre. "With our long history of innovation and growth in mind, we are currently upgrading on our old truck and can't wait to get our delicious food and friendly service back out there to our beloved customers, old and new."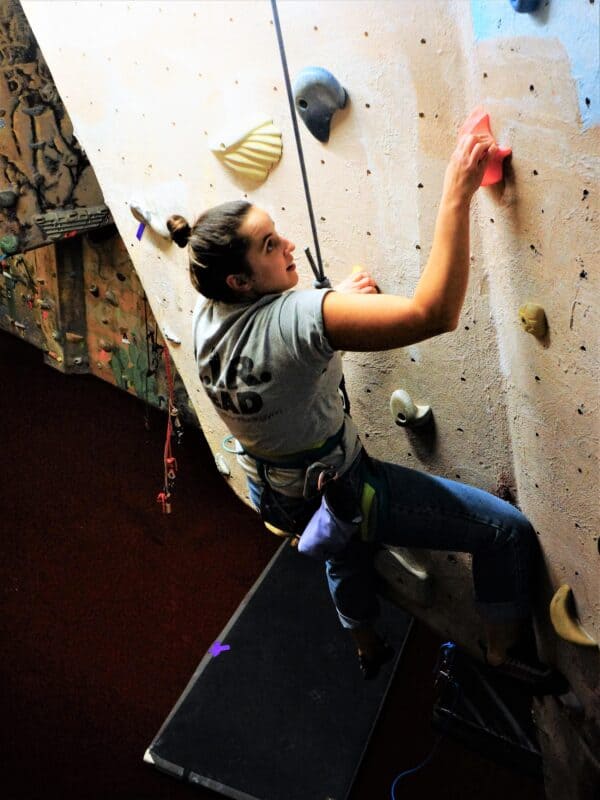 Carrie Soltis
Albany Indoor Rockgym (AIR)
Grant amount: $3,000 Albany's Indoor Rockgym has been serving the community since 1994. "We have enjoyed being part of our city's culture by working with climbers of all ages and experience levels. Helping students expand their interpersonal skills through leadership and communication while also having fun is a real privilege. We hold programs for vets and their families through The Wounded Warrior Project and have created special adaptive climbing training for individuals or groups with disabilities," says Carrie Soltis, Business Manager at AIR. They work hard to make sure the gym is accessible to everyone, especially the residents of the surrounding area. "Like many other small businesses, we have been struggling to stay afloat ever since the onset of the pandemic. After being forced to close for the majority of last year we are now only seeing a fraction of the business we once had," Soltis says. We miss the friends and families who have yet to return to the gym, but with the help of this grant and your organization we will be ready and waiting for the return of our community."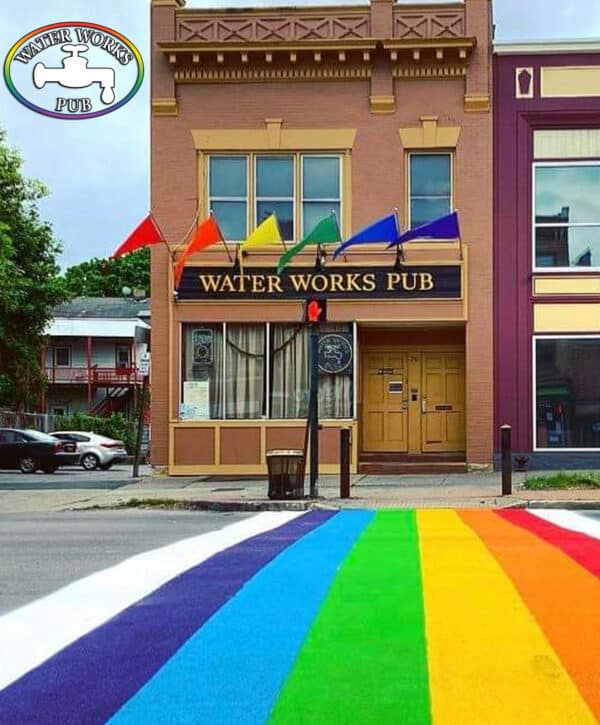 Scott Levine
Waterworks Pub
Grant amount: $3,000 Waterworks Pub as been serving the LGBTQIA+ community for 40 years. General Manager describes the pub as "a place to come out to, to be your true self, to meet friends and family." The club boasts standout entertainment, including amazing DJs, drag queens, performers and more, says Levine. The pub is also at the center of many popular holidays like St. Patrick's Day, Halloween, New Year's Eve, and Capital Pride. The pandemic has forced the team at Waterworks to adjust its day to day operations and the grant will help them make those adjustments. "Our dedicated staff at Waterworks Pub has rebuilt, reorganized, re-trained to operate above and beyond all of the safety guidelines of these trying times, with one goal in mind, to survive and get back to normal," says Levine. "With your help, with this grant and other assistance options for small businesses, we can make it through, together."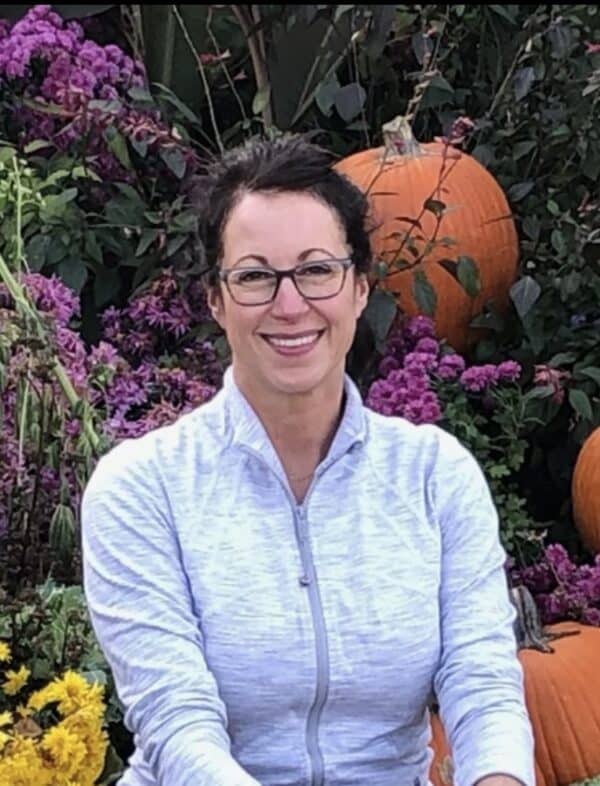 Kelly Bytner
Genesis Hair Studio
Grant amount: $1,000 Genesis Hair Studio is celebrating its 20th year as a woman-owned business in Albany County. Genesis Hair Studio has grown to be considered one of Albany New York's premier hair salons. We have always been proud to stay on the cutting-edge of the industry through our commitment to continuing education, both local and national, and through updating our skills to match ever-changing trends, fashions and hair styles, Bytner says. Additionally, the business helps support up to six other women in the Capital Region with full-time employment, she says. Consistent with other businesses in the Capital Region, Genesis had to shut down for several months and incurred significant costs related to protecting its workers and clients to re-open our business. "The grant from the County will help cover critical costs to help ensure the continuation of my business during these very difficult financial times," says Bytner.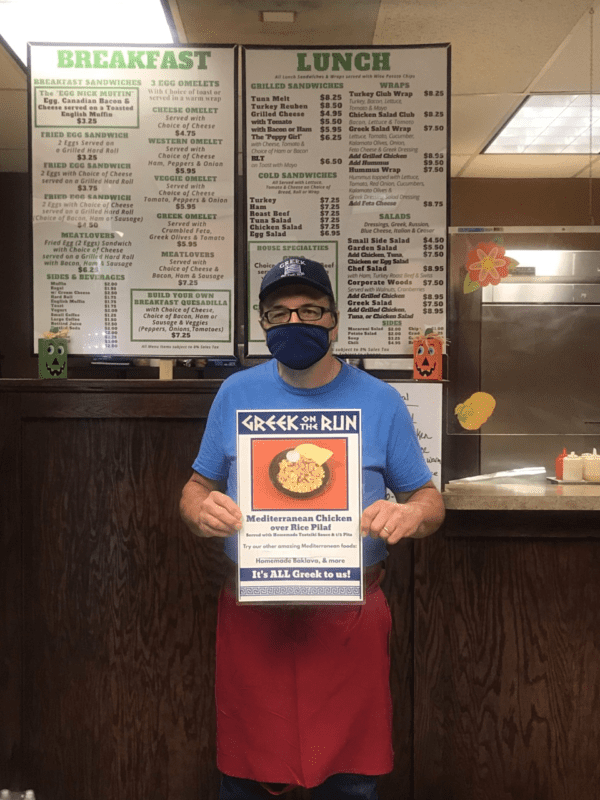 Nicholas Efstathiou
Peppy D's Cafe
Grant amount $3,000: Peppy D's is a family owned and operated restaurant in Corporate Woods, but people may know the owners better as Greek on the Run, the food truck that frequents downtown Albany during the summer. The menu at Peppy D's consists mostly of homemade soups, sandwiches, and daily specials. They also specialize in Greek-inspired cuisine such as Spanakopita, Gyro, Souvlaki, and Greek Salad. "We have owned and operated Peppy D's Cafe for over ten years, serving Corporate Woods and the greater Albany area. This grant will help us stay afloat amidst the unprecedented challenges presented to restaurants by the COVID-19 pandemic. We would like to thank Albany County for helping small businesses with this program," says Efstathiou.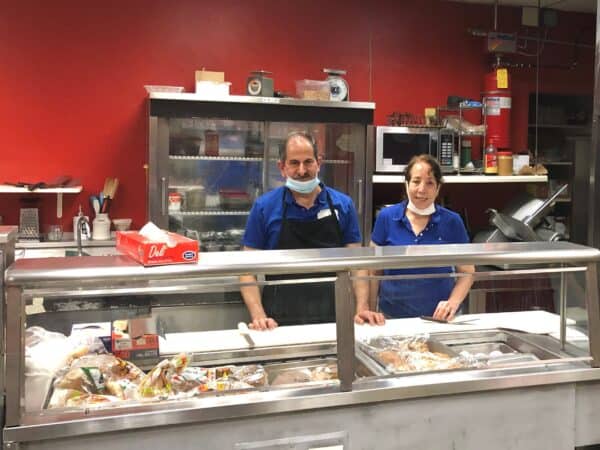 Ayoub and Nevin Soliman
Bon Appetit Cafe
Grant amount: $5,000. Ayoub and Nevin Soliman came to the US from Egypt in 2007 and worked hard to build their own little business. They bought the Wolf Road restaurant 10 years ago bought this place about 10 years ago and their menu features a diverse selection of American and Middle Eastern foods to tempt surrounding office workers. With years of hard work, they have been able to make a name for themselves, and slowly but surely upgrade the space and equipment. Then COVID hit. "With the shut down for a few months and most of the office employees are working from home, our business took a hit, with sales are less than 50%," explains Michael Soliman, the couple's son. "The grant money will help us with staying open and help with the loss we took." Soliman says the money will be used wisely, with a focus on keeping food prices low even as they ensure a safe dining experience.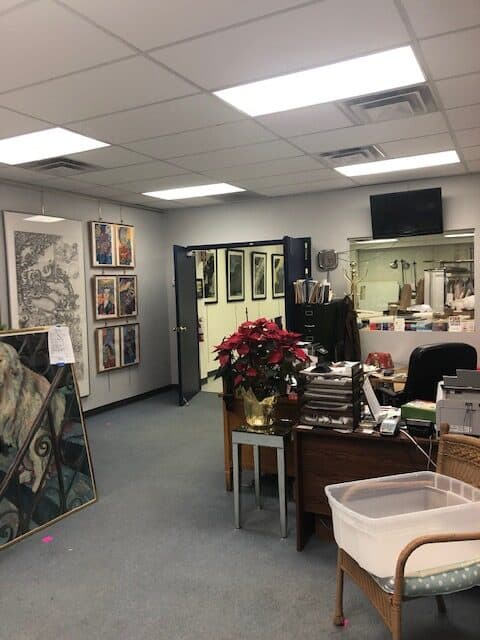 Attila Zalavary
Art Associates Gallery
Grant amount: $5,000 Who would expect that in the Railroad Avenue warehouse and industrial district of Albany, there is a small business dedicated to beauty? But that is where Art Associates Gallery, Inc is located. The gallery and frame studio is operated by Attila Zalavary, a European and American-trained master picture framer. Although quite popular before the pandemic shutdown in Mid-March 2020, visitors are significantly fewer since they reopened in September. The grant will be used to further community art projects and to finish its 2019 emergency move from Tobin's First Prize Center.